REVERIE RESORT VACATIONS
Visit Reverie Resort, a luxury hotel on a tropical island where vacationers come to enjoy their wildest dreams  but get more than they ever expected…
---
WHAT I WOULD GIVE TO SEE YOU AGAIN
---
Vampire Ahram Bahar comes to Reverie Resort to experience his deepest wish; to relive a moment he had with a woman over one hundred years ago. In 1892, he was reunited with Angelica Meitner, his childhood friend and soul mate. It was a moment of deep love, exquisite tenderness, and a horrifying ending that has haunted him ever since. Now, he wants a chance to savor the good without the bad, but did he remember to tell the resort hosts?
WHERE TO BUY WHAT I WOULD GIVE TO SEE YOU AGAIN
ENJOY THIS EXCERPT FROM WHAT I WOULD GIVE TO SEE YOU AGAIN
---
"I have to confess something, Angelica. I've never forgotten about you. As a boy, I remembered having feelings for you that were more than friendship, not that I could have said what they were. But seeing you now, I know it was the real thing. I loved you then and I still do now. I was really the one who pushed for this trip, not Serapis. I thought, if we came here, I might be lucky enough to find you. And I was, though in a completely unexpected way."
She blinked rapidly and lifted the shawl from beside her to blot at the tears squeezing from the corners of her eyes. "This has to be a dream." She sniffled. "You being here so suddenly…saying all the words I've imagined you saying." She took in a shaky breath and looked up at him. "I never married because of you, you know."
Ahram felt again the overwhelming surge of love that consumed him. It was twice now what it had been before because of all the longing he'd stored up for her over the past century. It was a tidal wave of emotion. He drew her into his arms and kissed her soft lips, felt her full breasts press against his chest, again memorizing the precious feel of her and the sensation of her lips against his. Unexpectedly, she parted her lips for him and their tongues slid against each other. Ah, she tasted so wonderful…delicious…
He broke the kiss.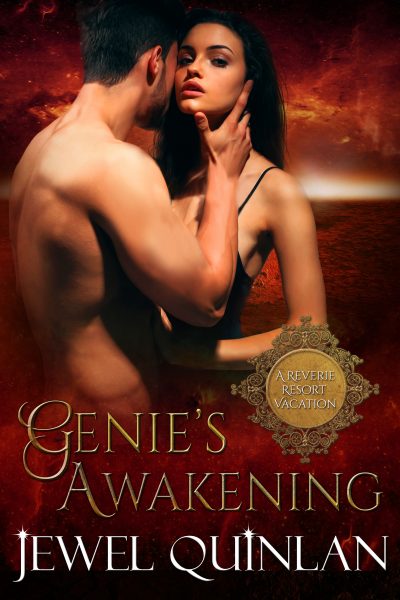 GENIE'S AWAKENING – Releases October 31st
---
Genevieve, a Jinn, goes to Reverie Resort for one last vacation before she must appear before the Afrit tribunal and formally declare that she has no powers. On the island, she hopes to enjoy one last taste of the luxury she is used to before being cast out of her home dimension to live among humans.
But something goes wrong. Instead of the spa weekend she's expecting, she finds herself on a remote, barren planet being auctioned off to the highest bidder. Have her hosts made a mistake? Or do they have sinister intentions? In the meantime, she finds her new owner, Colin, to be quite attractive for a human…